North Coast
New paintings and wall mural engaging Cleveland iconography, by New York artist Jonathan Allen
In this solo exhibition, Allen presents ten new paintings that explore Cleveland architecture, culture and history, referencing photographs and famous events. Imagery of local buildings, historic disasters, museums, and bridges surface in dreamlike mixed-media paintings that merge collage, drawing, and painting techniques. Over his two week residency at Micro Art Space, he is also creating a large-scale wall mural, that stretches over 20 feet long and seems to fragment and extend the gallery space. This site-specific painting incorporates imagery from sketches and field research Allen is conducting over the course of his time in Cleveland.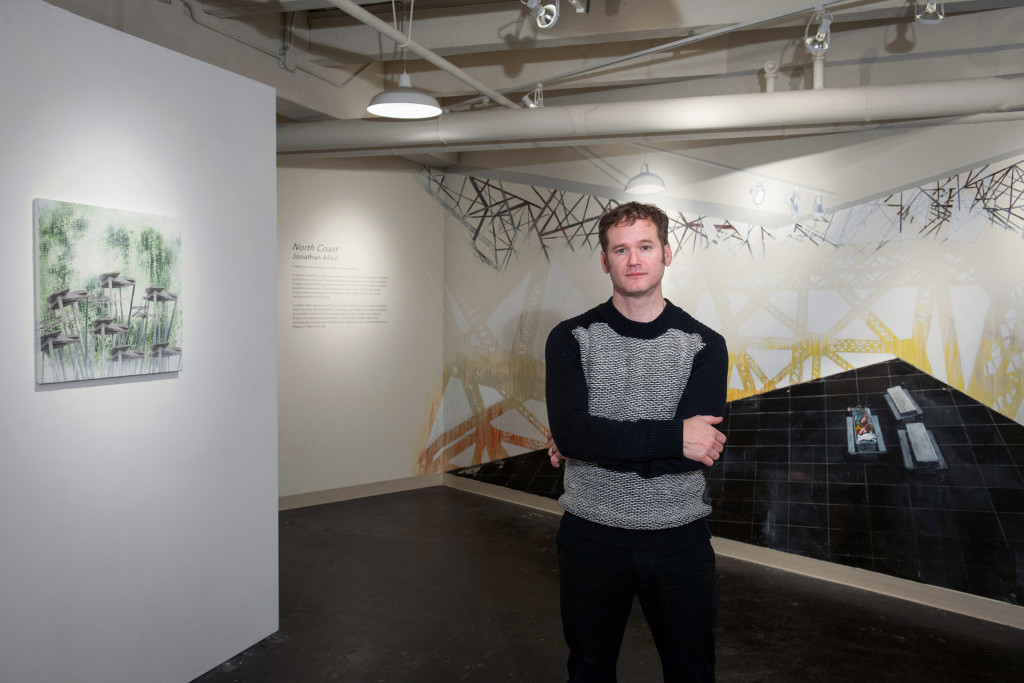 BIOGRAPHY
Jonathan Allen was born in 1975 and holds a BA in Visual Arts and Art History from Columbia University. Allen's paintings and collages have been exhibited at a number of New York art spaces including Lu Magnus, BravinLee Programs, PS122, Socrates Sculpture Park, Exit Art, Rotunda Gallery, and Artists Space. He participated in the Lower Manhattan Cultural Council's Workspace & Swingspace residency programs and the Bronx Museum of Art's Artist in the Marketplace program, and has been awarded residencies at the Bogliasco Foundation in Italy, Cill Rialaig in Ireland, and Blue Mountain Center. In 2008, Jonathan Allen was awarded a Pollock-Krasner Foundation grant; he has also received grants from the Puffin, George Sugarman, and Chenven Foundations. In 2010 Brooklyn Arts Press published SUPERSTRUCTURE, a monograph on his work, and in 2013 he collaborated with poet Anselm Berrigan on Loading, a solo exhibition and book. In September 2014 a solo exhibition of his work opened at THELMA Sadoff Art Center in Milwaukee, Wisconsin. He is currently preparing his third NYC solo exhibition, scheduled for 2015. His work has been reviewed in The Huffington Post, The New York Times, The Village Voice, NY Arts Magazine, Exibart, and Vogue.com among others. His work is represented in numerous private collections, and the Microsoft and Credit Suisse collections. He is Lower Manhattan Cultural Council's On-Site Assistant for Building 110: LMCC's Art Center on Governors Island, and lives in Brooklyn.
Jonathan Allen's work-in-progress during his current 2-week Residency here at MICRO ART SPACE: