2-week resident artist Rob Millard-Mendez (from Evansville, Indiana) creates a new installation work titled "Forest City Armada"
RECEPTION: Friday March 20th 5-9pm at Micro Art Space (suite 108 within 78th Street Studios, Cleveland Ohio)
---
Artist's Statement:
The primary aim in my work is to illustrate and analyze concepts that I find enthralling. The resulting objects deal on many levels with formal and conceptual issues. In my work, I hope to show an equal blending of art, craft, and the presentation of engaging ideas in intriguing ways. The works are meant to involve the viewer on many levels: physically, visually, and intellectually.
My sources include mythology, science, history, and American Folk Art. The objects I make reflect the sensibilities of a person steeped in New England practicality who, for better or worse, ended up learning about things like art history, existentialist philosophy, and post-structuralist theory. Many of my sculptures are based on themes from classical mythology viewed through the lens of contemporary events. I have a strong interest in how my themes surface and re-surface throughout human history in many varied (but related) guises. I very much enjoy how masks and figurative sculptures are used in disparate cultures to play out everyday dramas that echo age-old narratives.
My current body of work is heavily influenced by my many experiences on boats. My father was a commercial fisherman and I spent a significant amount of my early life on boats and docks. Being out on the ocean at night away from the land is a powerful experience; it teaches you something about how quiet and sublime the world can be. Boats are powerfully metaphorical and the ones in this exhibition are laden with layers of interwoven meanings.
Craft is an important aspect of my work. I identify strongly with the idea of the artist as a kind of Daedalean hybrid: artist/artisan/shaman. Visual art, like mythology, has the power to compel us with its resonant imagery. It is my hope that my works will, in some small way, enrich the viewer and make her/him see the world as slightly more tragic or laughable (or possibly both at the same time).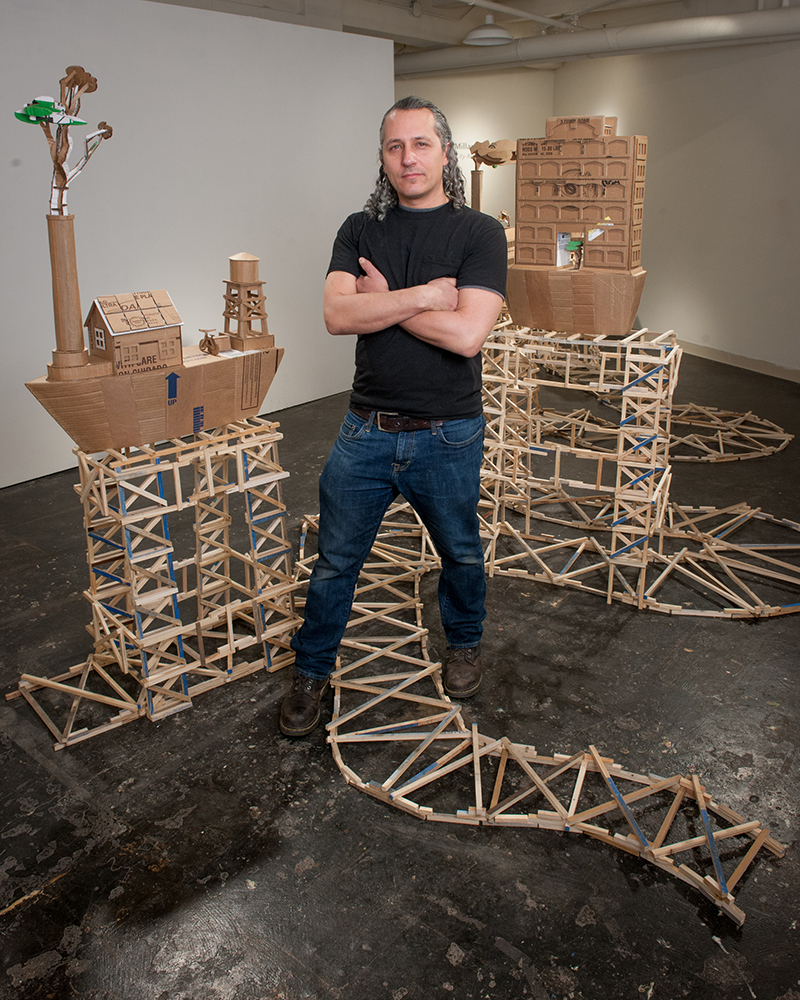 Rob was born in Lowell, Massachusetts – a city with an incredible industrial past. Growing up in Lowell fostered  his fascination with late-nineteenth century mechanical technology. From an early age, he was enthralled with mechanics and motion.